Got a dark grey sofa, or want one? Need to know how your living room will look, or how to decorate it? In this post, we bring you 10 ideas for living room décor when your key piece is a dark grey sofa.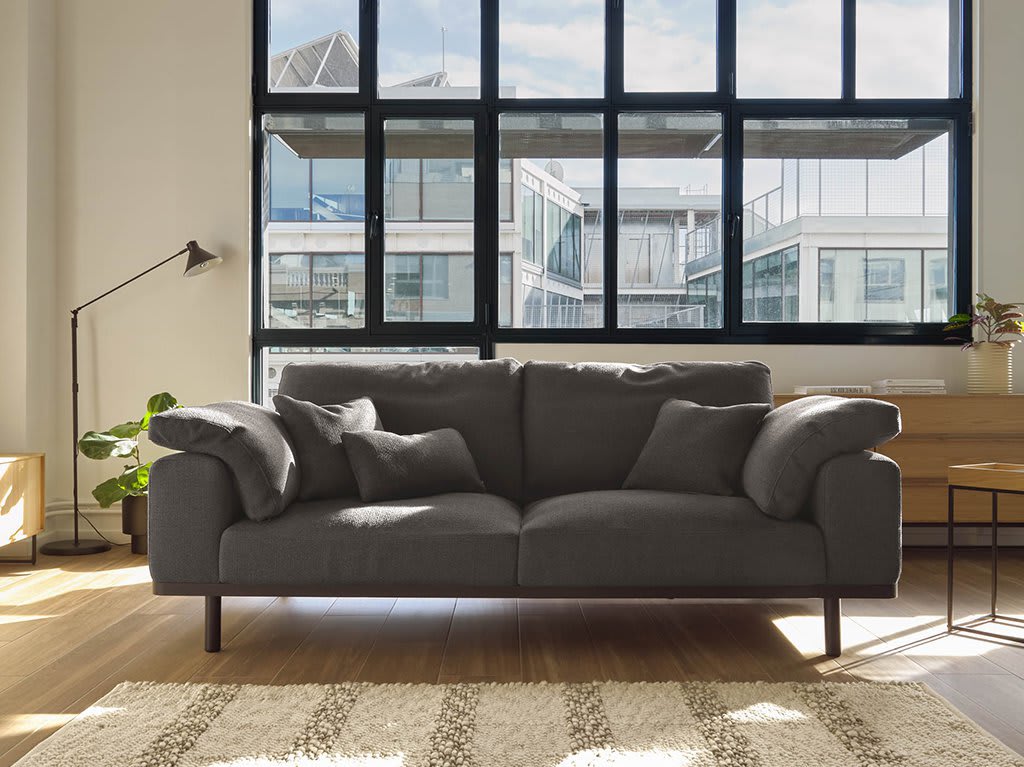 1.Neutral walls for your living room
With a grey sofa, your best bet is to paint the walls with neutral tones. White is a shade that'll boost brightness and add contrast with the dark grey of the sofa. Another idea is to combine dark grey with beige walls – it'll look super cosy, we promise.
2.Light-coloured fabrics to match grey sofas

Choose fabrics with pale, neutral colours. We love to combine grey with a mustard-coloured palette or different shades of brown. Be bold and mix different fabrics such as wool, shearling or linen to give a range of contrasts. Your grey sofa will still be the centre of attention!
3. A touch of green in your grey living room

Green is another colour that matches dark grey beautifully. But if you don't want to jump in with both feet and paint your walls green, we recommend adding this shade in the form of fabrics and plants, which will make the room feel fresh and bright. And the sofa will look just as inviting.
4. Hang up a picture... or five

Another idea for a play on colour is to hang up a picture in shades of grey – it's a varied palette so you won't get bored. It'll also help you break up a plain wall and match your sofa beautifully. The Myrthe collection has some great options, and they won't detract from your grey sofa's star power.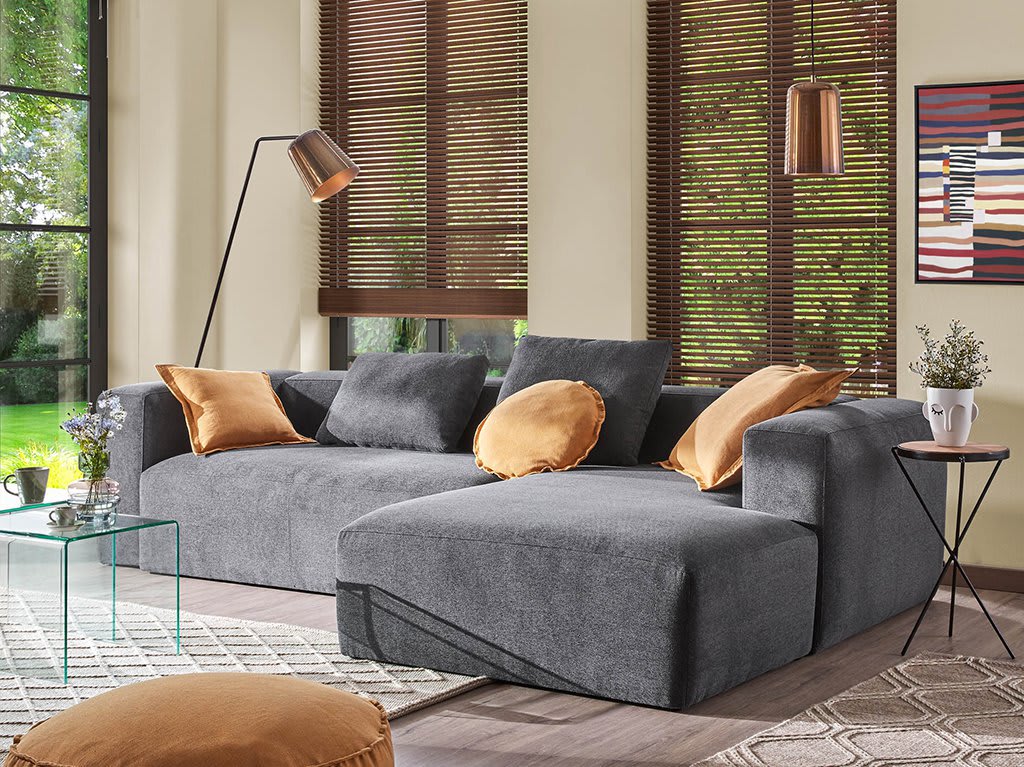 1.Add a light-coloured rug

To add cosiness to the living room, rugs are a must-have. If you've got a dark grey sofa, choose a rug in pastel colours to lighten the look. Rugs made from natural materials are also an excellent choice – try putting one underneath a grey sofa.

6. The power of armchairs
Did you know that Pantone's shades for 2021 are grey and mustard? If you've got a grey sofa, it's the perfect opportunity to bring two colour trends into your living room. Choose one of our mustard armchairs like the Meghan, Chleo or Gamer and create an extremely cool nook.

7. A coffee table for your grey sofa
The moment to choose your coffee table has arrived, and we suggest a glass table as it'll help avoid a cluttered look and give the grey sofa the prominence it deserves. Our Burano table could be the ideal option.

8. And a side table?
If your living room is on the small side and you'd rather not add a coffee table, you could go for two side tables instead – they'll add a little colour and keep the space looking clear. Your grey sofa will still be the centre of attention!

9. Don't forget to decorate
Vases, magazine racks and ornaments will all add the finishing touches to your décor. When it comes to the details, we recommend being bold and experimental: you can always move things around when you fancy a new look.

10. Be yourself
Think about the elements you need at your fingertips in the living room and don't be afraid to take risks. Mixing colours and fabrics could be your best bet, and a dark grey sofa allows for plenty of creativity. So get stuck in, experiment, and curate your ideal living room!
March 4, 2022, 6:38 p.m.